This Granny's Chocolate Texas Sheet Cake is a family tradition; my brother's and I grew up eating it, and my kids are growing up devouring it.  I've had many Texas Sheet Cakes a.k.a Texas Chocolate Cakes a.k.a Chocolate Sheet cakes, as everyone in the South as their own version of it; and I can say that THIS one is everyone's favorite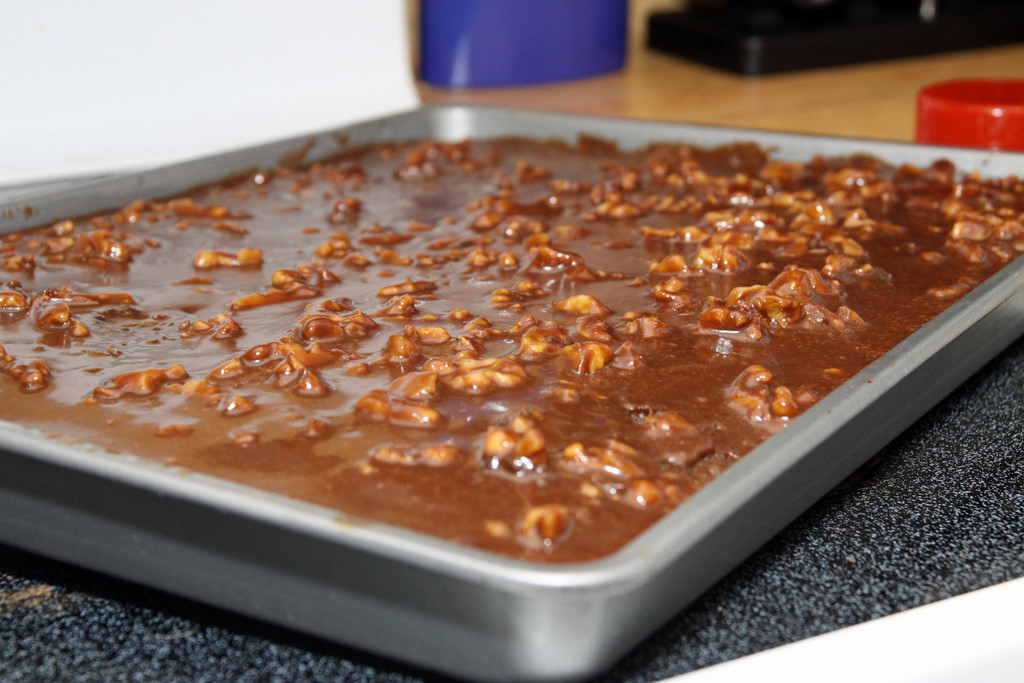 INGREDIENTS
2 C flour but not really.. more like 1 C and just a hair shy of another cup..1 C and 1 not quite level cup
2 C sugar
1/2 tsp. salt
1 tsp baking soda
2 sticks margarine The original recipe calls for oleo. ******* You can use butter instead of margarine. 2 sticks (1 Cup)
1 C water
3 Tbsp. Cocoa
2 eggs
1/2 C buttermilk
1 tsp. vanilla
1 tsp. cinnamon
Frosting
1 stick margarine or 1 Stick Butter 1/2 Cup
3 Tbsp. cocoa
6 Tbsp. milk 1/4 Cup plus 2 Tbsp in dry measuring cups or 3 oz in liquid measuring cups
1 box 16 oz confectioners (powdered) sugar
1 C chopped pecans or walnuts
1 tsp. vanilla.
1/2 tsp cinnamon
How To Make Granny's Chocolate Texas Sheet Cake
For The Cake
Stir flour (I use a little less than 2 full cups), sugar, salt.

In sauce pan put margarine, cocoa and water. Stir while bringing to a boil. Pour over the flour mixture.

Stir eggs, soda, buttermilk, cinnamon and vanilla together. Add to the flour/cocoa mixture.

Bake in greased sheet cake (10×15) pan for 18 minutes on 350.

minutes before cake is done make the icing.
For The Frosting
Mix together; cocoa, margarine and milk. Heat and then add nuts, powdered sugar, cinnamon and vanilla.

Pour over hot cake and allow to cool.
NOTES
**** The original recipe calls for Oleo, but you may use butter instead of margarine. If you use salted butter, omit the salt from the recipe.*** The sheet cake pan for this recipe is a 10X15 sheet cake pan – you may know it as a jelly roll pan.
Credit: Allwecook