Recipes
The Ultimate Easy Chocolate Turtle Cake Recipe You've Been Waiting For
If you're a fan of rich, gooey chocolate, buttery caramel, and crunchy pecans, then boy, do I have the perfect treat for you. This Easy Chocolate Turtle Cake is the sumptuous dessert you never knew you needed. Whether you're baking for a special occasion or just because, this recipe is a surefire way to impress your guests and satisfy those sweet cravings. Let's get started!
The Secrets Behind Perfect Chocolate Turtle Cake:
Every cake has its secrets, and the Chocolate Turtle Cake is no exception. Using high-quality ingredients is the first step. The real magic, however, lies in the layering—ensuring each layer complements the other, delivering a symphony of flavors and textures in every bite.
Key Details
Prep Time: 20 minutes
Cook Time: 35 minutes
Total Time: 55 minutes
Servings: 12 slices
Ingredients:
For the Cake:
1 (15.25-ounce) box German chocolate cake mix
4 ounces (1/2 cup) unsalted butter, softened
1 1/2 cups water
1/2 cup vegetable oil
1 (14-ounce) can sweetened condensed milk, divided
1 pound caramels
1/2 to 1 cup pecans, chopped
For the Frosting:
4 ounces (1/2 cup) unsalted butter
3 tablespoons cocoa powder
6 tablespoons evaporated milk
1 pound confectioners' sugar
1 teaspoon pure vanilla extract
Directions:
Prepare the Cake: Begin by preheating your oven to 350°F (175°C). Grease and flour a 9×13-inch baking dish.
In a large bowl, combine the German chocolate cake mix, 4 ounces of softened butter, water, and vegetable oil. Beat until smooth. Pour half of the batter into the prepared baking dish.
Bake in the preheated oven for 15 minutes.
While the cake is baking, combine half of the sweetened condensed milk and caramels in a saucepan over low heat. Stir continuously until the caramels have melted and the mixture is smooth.
After the cake has baked for 15 minutes, remove it from the oven. Pour the caramel mixture over the cake, spreading it evenly. Sprinkle the chopped pecans over the caramel layer.
Pour the remaining cake batter over the caramel and pecan layer, spreading it out evenly.
Return the cake to the oven and continue baking for an additional 20 minutes, or until a toothpick inserted into the center comes out clean.
Prepare the Frosting: In a saucepan over low heat, melt the 4 ounces of butter. Stir in the cocoa powder and evaporated milk. Gradually whisk in the confectioners' sugar and vanilla extract. Continue cooking and stirring until the frosting is smooth and has thickened slightly.
Pour the frosting over the warm cake, spreading it out evenly.
Allow the cake to cool completely before slicing and serving.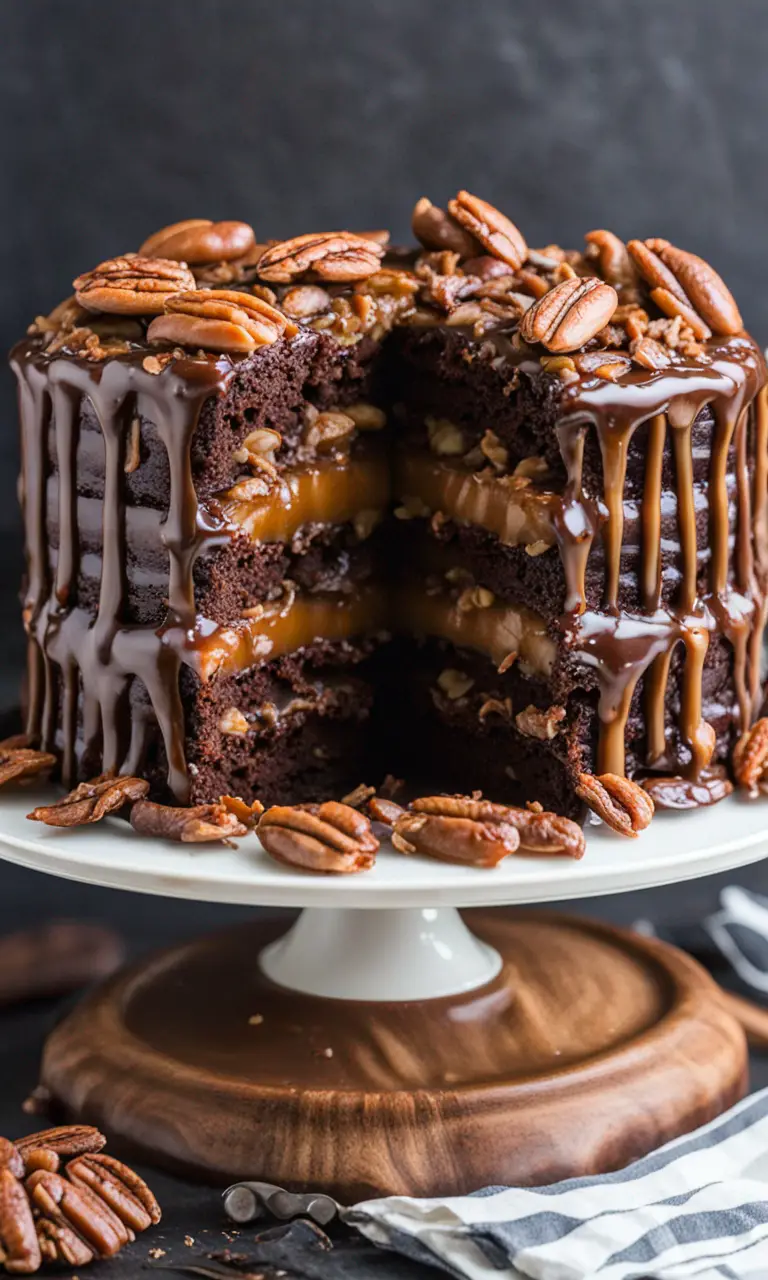 Expert Tips for a Perfect Chocolate Turtle Cake:
Use high-quality caramels for the best flavor and texture.
Feel free to adjust the amount of pecans to your liking. You can also toast them slightly for a deeper flavor.
Make sure the cake is warm when you pour the frosting over it. This allows the frosting to seep into the cake slightly, making every bite incredibly moist and flavorful.
Serving Suggestions:
Serve with a scoop of vanilla ice cream or a dollop of whipped cream for an extra touch of indulgence.
A drizzle of caramel or chocolate sauce can further elevate the dish.
Pair with a glass of milk or a cup of coffee to balance the sweetness.
Frequently Asked Questions (FAQs):
Can I make this cake a day ahead?
Absolutely! The flavors even meld together better when allowed to sit overnight. Just store it in an airtight container.
Can I use a different type of nut?
Yes, walnuts or almonds can be a great substitute for pecans.
How long can I store this cake?
Stored in an airtight container, this cake can last up to 5 days in the refrigerator.
This Easy Chocolate Turtle Cake combines all the beloved flavors of a turtle candy in one delightful dessert. From the rich German chocolate to the gooey caramel and the crunch of pecans, it's a symphony of flavors that will leave you wanting more. Perfect for holidays, celebrations, or simply because you deserve a treat!
Happy baking!
Loved this recipe? Don't forget to pin it to your favorite dessert board on Pinterest, so you always have it at hand!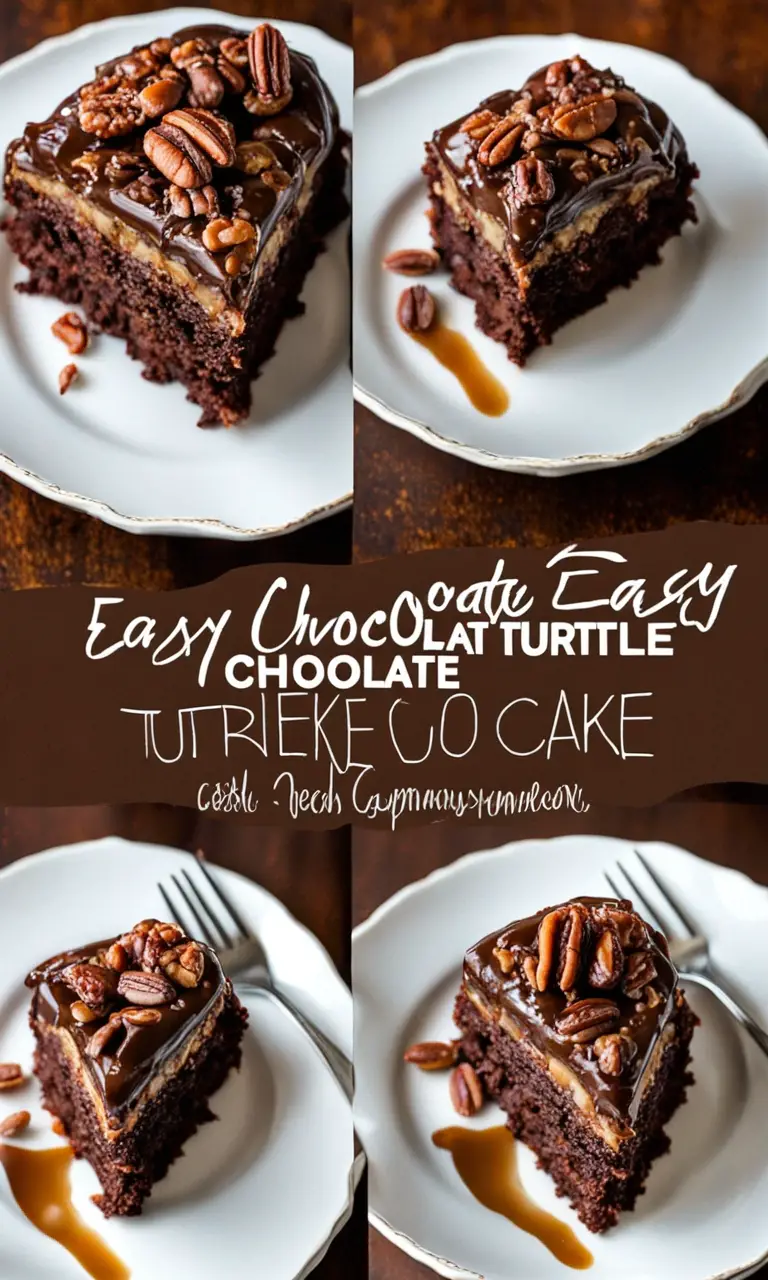 Credit: 1krecipes