When it comes to favorite classic cake recipes, Italian Cream Cake most definitely sits high on our list. With a little digging we learned that the origins of this treat appear more southern than Italian. In hindsight, that makes perfect sense with main ingredients like butter, pecans, and coconut. It's not totally clear where the Italian label came from, but we have to admit it gives the name an air of sophistication. Regardless of where the recipe came from, we sure are glad that it made its way into our recipe box because it is de-licious.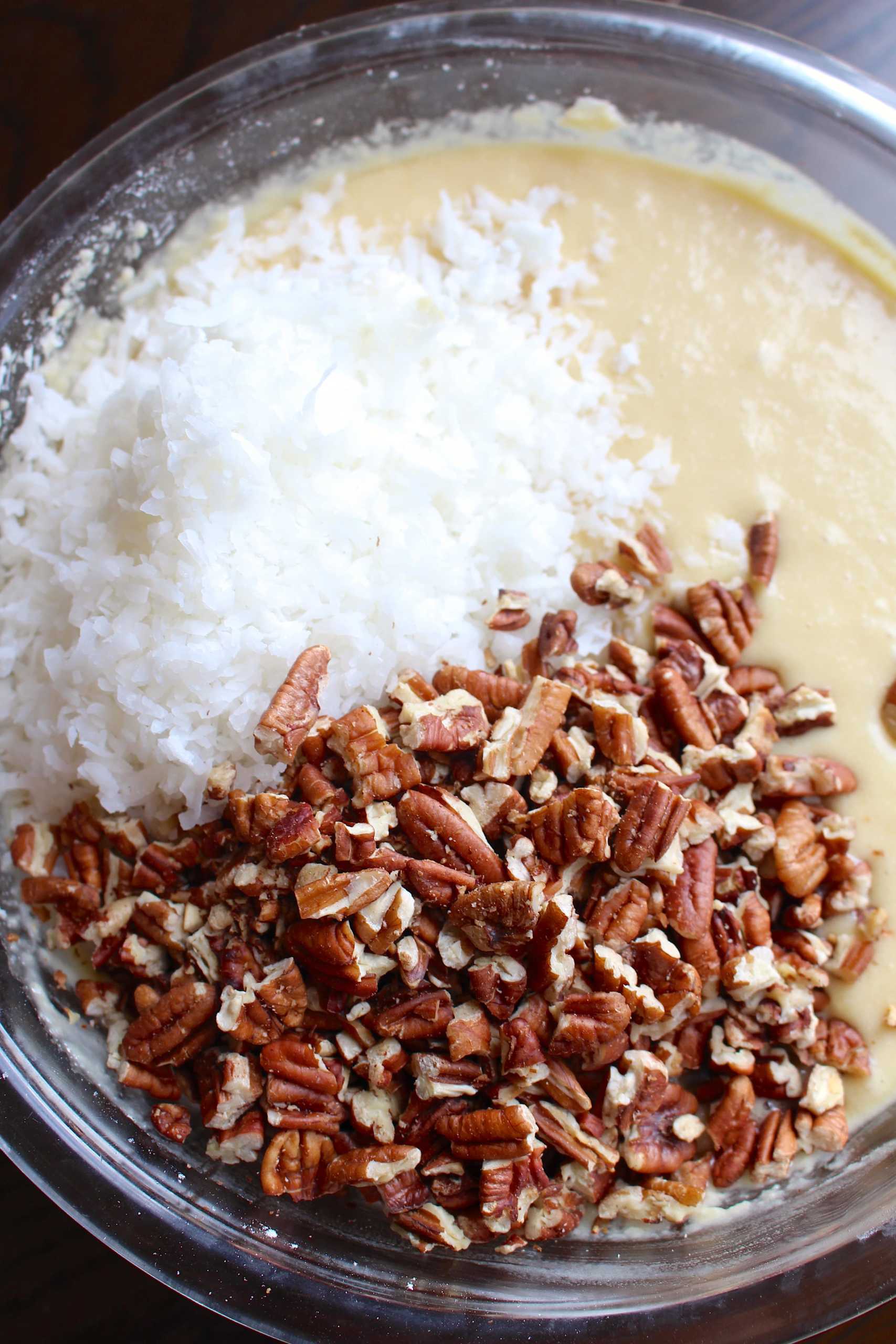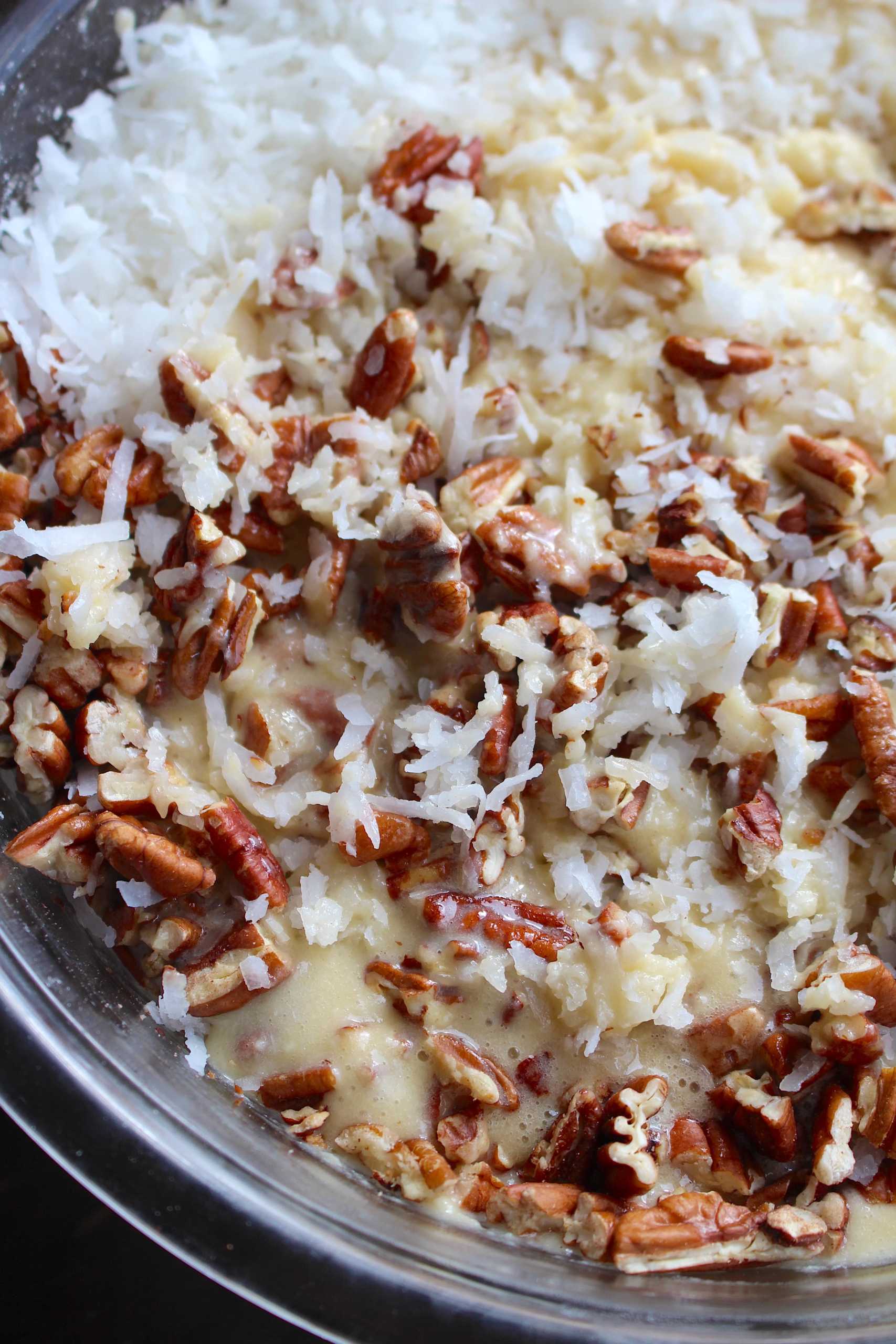 It may look like there's a lot going on in this cake, but let us assure you, the elements work together beautifully. The cake is made with a moist and fluffy sponge that gets its flavor from creamy buttermilk, sweet coconut flakes, and crunchy pecans. The layers of the cake are then stacked with a smooth and velvety cream cheese frosting, the tang perfectly balanced with a hint of vanilla and almond. With its indulgent taste and stunning presentation, it's the perfect dessert for holidays, birthdays, or any time you want to really wow your guests!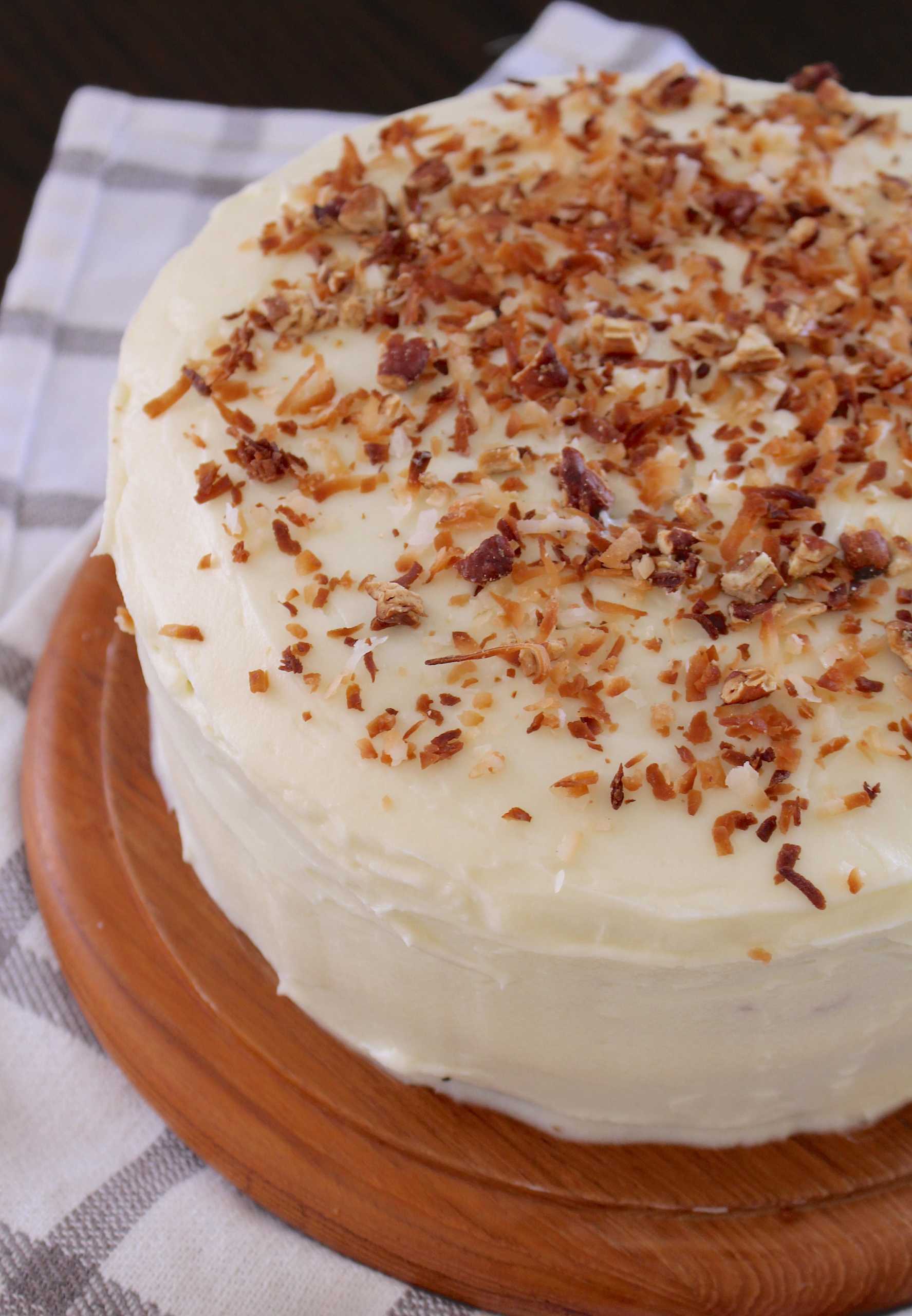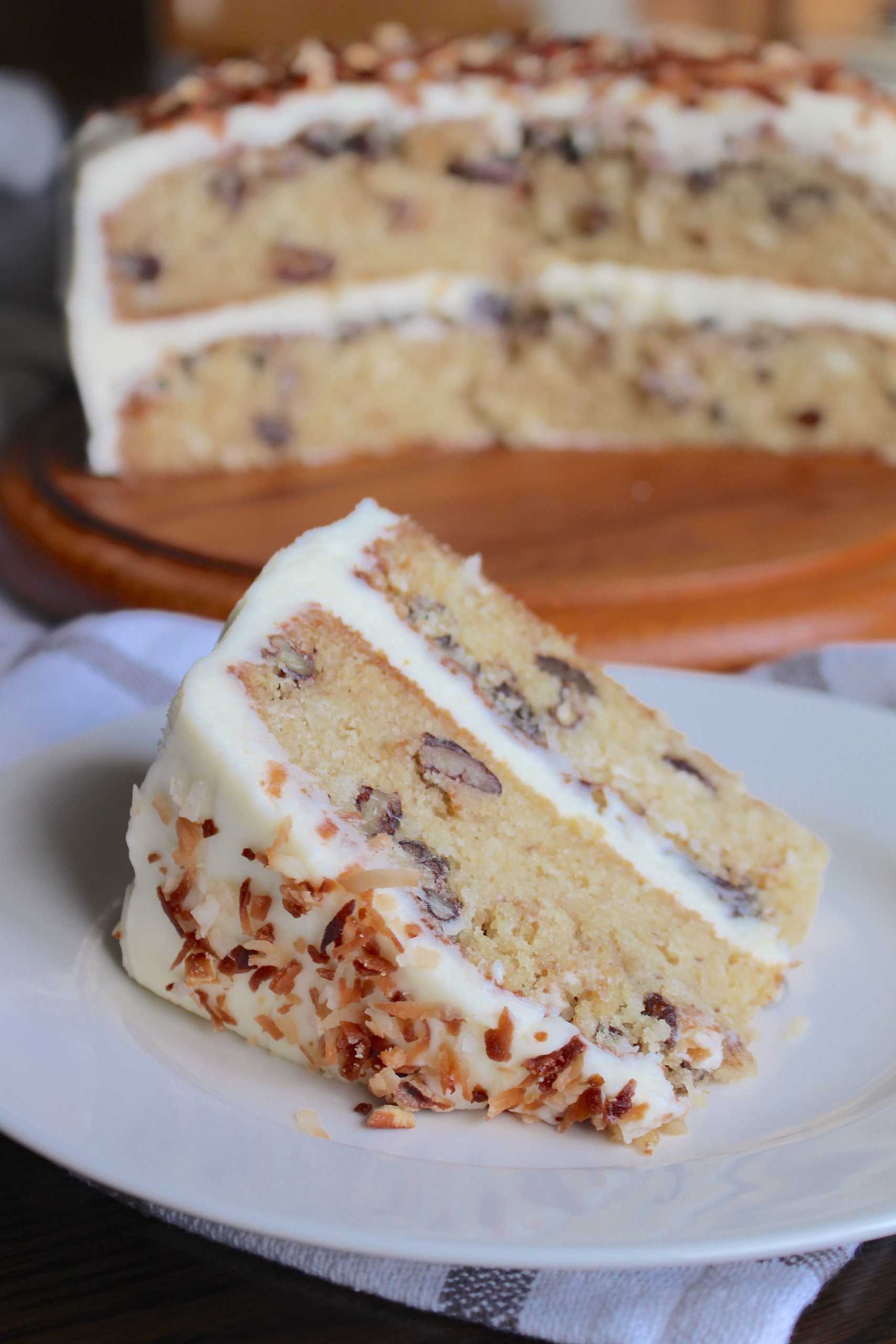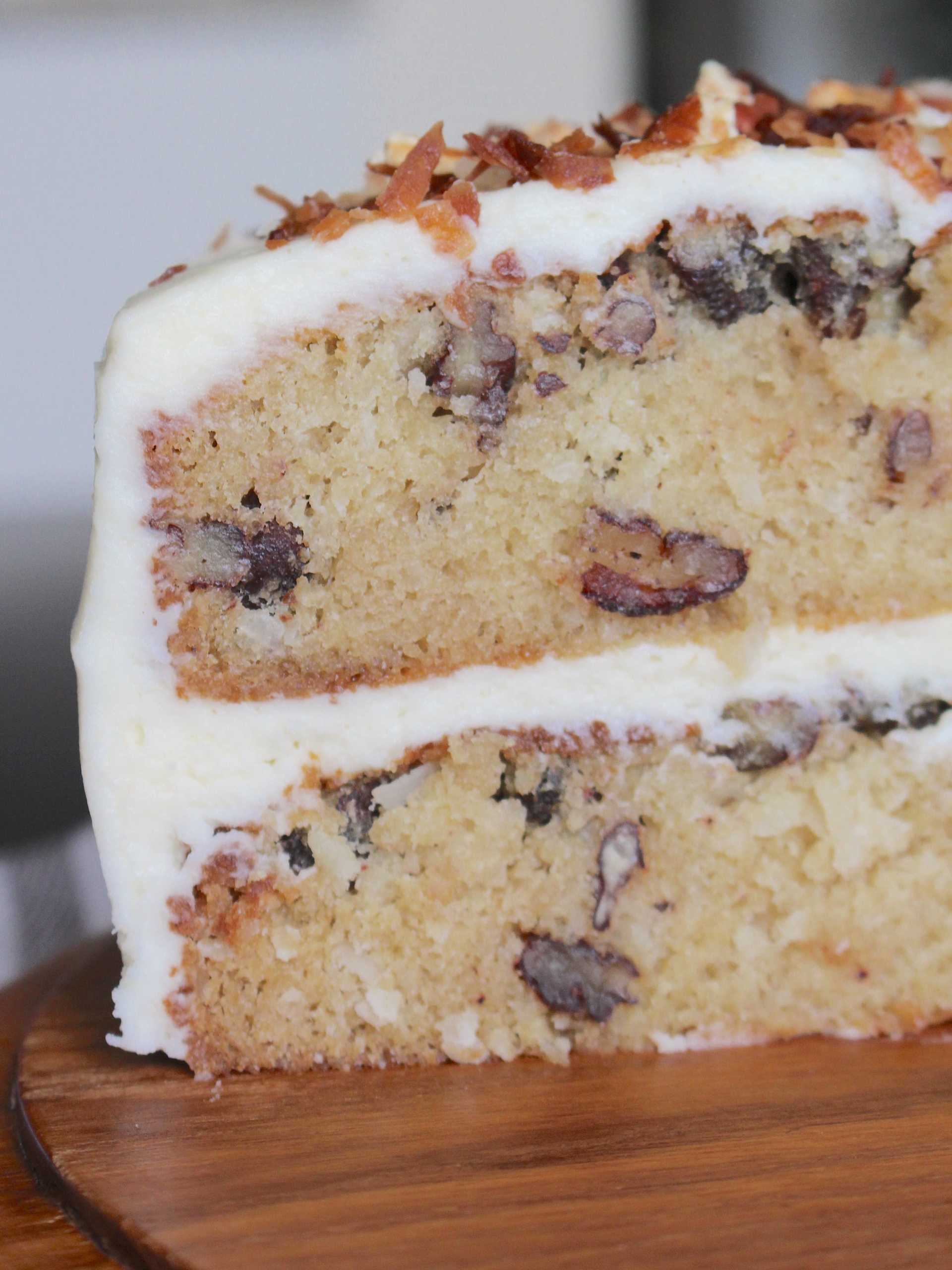 Folks can rarely resist going back for another slice, and we can't blame them. I'll admit I swipe more than a few spoonfuls of frosting before any actually makes it onto the cake. If you're not as confident in your cake assembly skills, this can also be made in a 9×13 pan instead, you'll just need to keep on eye on the bake time and adjust accordingly. No matter the occasion, this Italian Cream Cake is sure to steal the show.
INGREDIENTS
2 cups flour
1 teaspoon baking soda
½ teaspoon baking powder
1 cup butter (2 sticks), room temperature
1 ½ cups sugar
½ cup packed brown sugar
2 teaspoons vanilla extract
1 teaspoon almond extract
5 eggs
1 cup buttermilk
1 1/4 cup sweetened coconut flakes
1 cup pecan pieces, toasted and cooled
FROSTING
16oz cream cheese (2 packages)
1 cup butter (2 sticks), room temperature
6-8 cups powdered sugar
2 teaspoons vanilla extract
1 teaspoon almond extract
½ cup toasted coconut
1/2 cup pecan pieces, toasted and cooled
PREPARATION
Preheat oven to 350 degrees F and grease two 9 inch round cake pans.
In a small bowl, combine the flour, baking soda, and baking powder. Stir until fully integrated.
In a large bowl, combine 1 cup butter, sugars, vanilla, and almond extract. Mix for 2-3 minutes or until light and airy. Beat in the eggs one at a time.
Slowly add the dry ingredients to the wet ingredients then mix in the buttermilk.
Fold in the coconut flakes and toasted pecans, then divide the batter between the two prepared cake pans.
Bake for 30-33 minutes or until an inserted toothpick comes out clean. Let cake cool completely before frosting.
To make the frosting: Beat together the cream cheese and butter until light and fluffy, then add the vanilla and almond extracts. Slowly, add the powdered sugar until smooth and your desired consistency has been reached.
Frost the cooled cake and decorate with the remaining coconut and pecans.
Recipe adapted from Melissassouthernstylekitchen.com